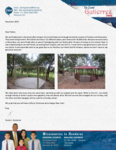 We are finally back in Honduras after being in the United States on furlough during the months of October and November. They were tiring months. We visited churches in 11 different states, and I drove over 14,000 miles. Because we were there in November, we were finally able to spend Thanksgiving with our family after 14 years of being on the mission field. It was a big blessing to see old friends, be among God's people, and see the U.S. It was hard to say good-bye to each church we visited. It was especially hard to say good-bye to our families, but thank God for Heaven, where we won't have to say good-bye anymore.
We have been very busy since we came back, catching up with our people and the work. While in the U.S., we raised enough money to build a couple more gazebos; they are almost done. We will use one (the octagon) for our nursery, and the other one (the hexagon) will be used for a Sunday school.
We pray that you will have a Merry Christmas and a Happy New Year!
Truly,
Osmin J. Gutierrez